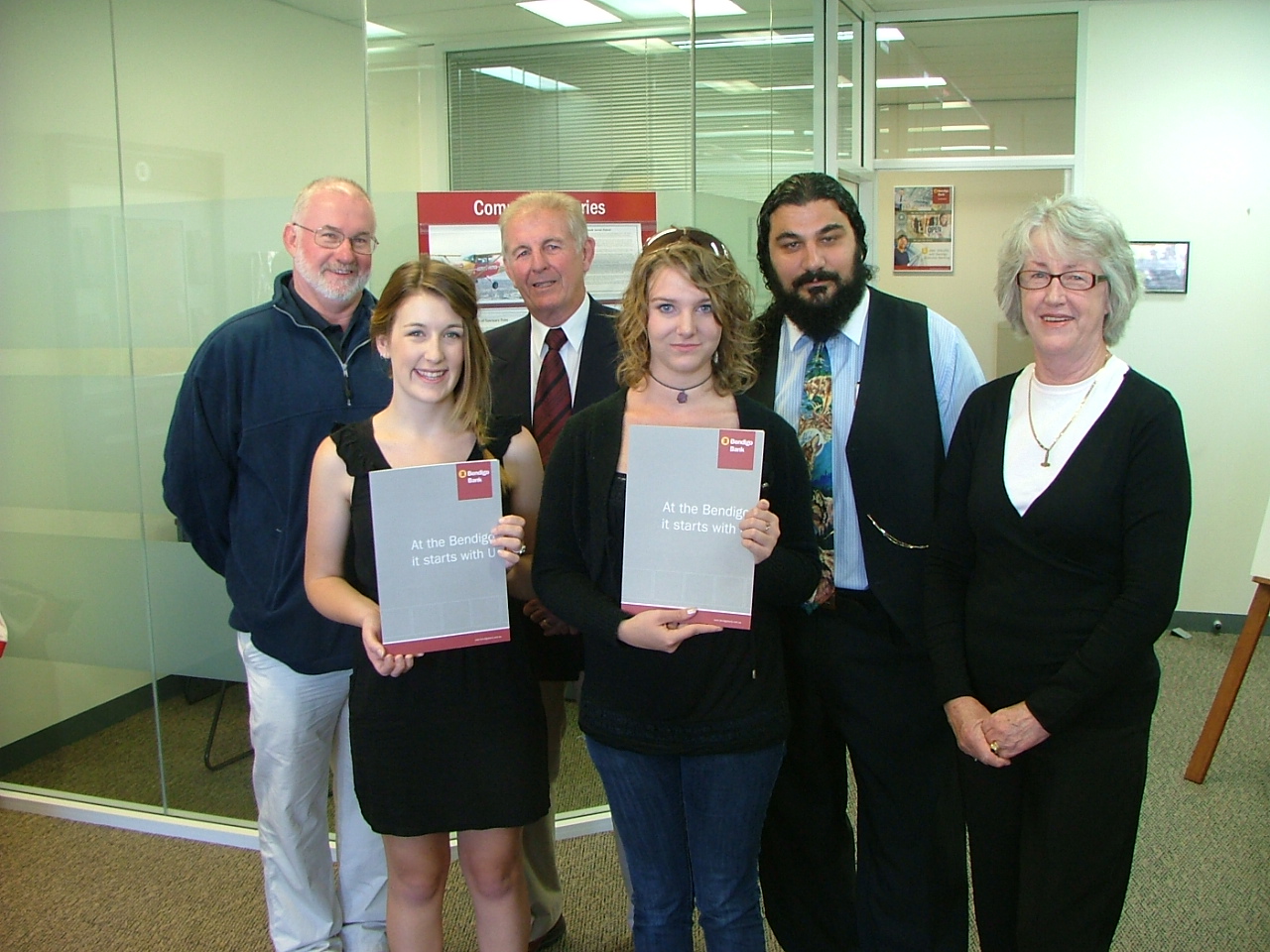 Left to right: Steve Glenday - Principal VHS, Pamela, Noel Burke - Chairman of the Board, Taylor, Foti Loupos - Head Teacher Senior School, Veronica Husted - Chair Community Services Committee.


The Sanctuary Point & Districts Community Bank Scholarship is being granted for the first time this year. It is awarded to first year tertiary students whose circumstances might otherwise mean that a university degree is out of their reach, or difficult to pursue.

Ms. Pamela Barling and Ms. Taylor Hume said the scholarship would make a huge difference to them in following their chosen fields of studies. Pamela is studying for a Bachelor of Journalism and Bachelor of Law at Wollongong University, while Taylor is studying for a Bachelor of Zoology at the University of Armidale.

Noel Burke, Chairman of the Sanctuary Point & Districts Community Bank, said Pamela and Taylor were thrilled with the chance to further their education. "It's great to know that they have the financial support required to pursue their degrees, which means they don't have to worry about how they will finance studies and accommodation" he said.

"We want to make a difference to outstanding local students like Pamela and Taylor who may not be able to start higher education because accommodation and study costs put considerable financial pressures on a family", Mr. Burke said.

"Young people in a number of communities across Australia, including ours, will now have the chance to fulfil their dreams of tertiary education thanks to the scholarships offered by their local branch of their Community Bank".

"This is another way that our Community Bank commits to building stronger communities".

"Pamela and Taylor are very deserving of a scholarship and I wish them both the best of luck as they begin an exciting journey towards their career goals", Mr. Burke said.

The Sanctuary Point & Districts Community Bank Scholarship is part of the Bendigo and Adelaide Bank Scholarship program, with several other Community Bank branches, as well as other partners, taking part right across Australia.
Written by Sanctuary point and Districts Community Bank
To view their website .Sanct Bendigo Bank